Viz licensed the manga March Story, but I don't think the ones scanalating it Etc... know about the news yet.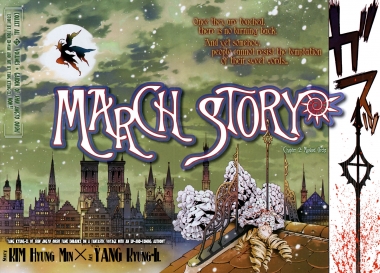 You have demons called Ils that taint art and jewelry like objects and humans with desires discover them. It's safe to say people are generally curious beings plagues with desire, so the demons enter them from their eye and manipulate them into giving them control of their bodies. Basically a fight or a lack of a fight between two minds. After the body is taken over, there's no way of ever recovering the human after it makes it's first kill. You can tell if such a demon has made a kill by looking for blood on the horns that grown from the human puppet's head.
The main character is a kid named March who has a Syste Behard job involving saving these people or at least killing both. His motives aren't revealed yet or at least not in chapter one. Later on in the story there will likely be others like him and other demons who've been around to know what's up for bigger battles.
Thoughts bellow in spoilers...
March Story is due in stores October 19, 2010. Should note that this is drawn and written by two Koreans Kyuing-il Yang and Hyung-min Kim, but the manga is from Japan and that supposedly makes it manga.